Supply chain optimization in the chemical industry
Supply chain optimization in the chemical industry
Reducing complexity in supply chains with Advanced Analytics
When COVID-19 broke out in 2020 and the panic-buying among the population began, two brothers toured the pharmacies and supermarkets throughout their home state in the USA, purchasing approx. 17,700 hand sanitizers as well as face masks – and they weren't the only ones. Millions of people worldwide began stockpiling hygiene products, face masks, pain relievers and other medicaments. The chemical industry, which is primarily responsible for the manufacture of such critical products, found itselfunder immense pressure as supply chains broke down. Companies in the industry were unable to procure materials and manufacture fast enough to meet the high demand for essential products.
It is common knowledge that global supply chains of all industries were severely disrupted by the pandemic and many are still feeling the after-effects of the economic turmoil it has created. However, the supply chains in the chemical industry are more vulnerable to disruption than most. In this article, we look at the challenges supply chain managers face in this particular industry and how they can be overcome…
The chemical industry is very complex
The chemical industry is vast and extremely complex  because of its highly diverse product portfolio. This includes petrochemicals, agrochemicals/fertilizer, commodity chemicals such as detergents, plastics, rubber, cleaning compounds, special chemicals for industries such as paints, cosmetic ingredients, fragrances, food additives, etc. and, last but not least, the pharmaceutical sector.
The majority of the ingredients, materials and products require special handling since they can be hazardous, temperature-sensitive, or perishable. These aspects must be observed when storing, manufacturing, packing and transporting them.
Chemical supply chains are as complex as the industry itself and, in many cases, lack visibility. Even minor disruptions can cause serious problems, but major, unforeseen disruptions like a pandemic can have disastrous consequences. Bearing in mind that the chemical industry provides us with essential – even life-saving items – it is all the more crucial that its supply chains are as resilient as possible. However, to achieve resilience, a great many supply chain challenges have to be overcome. We outline the main challenges below: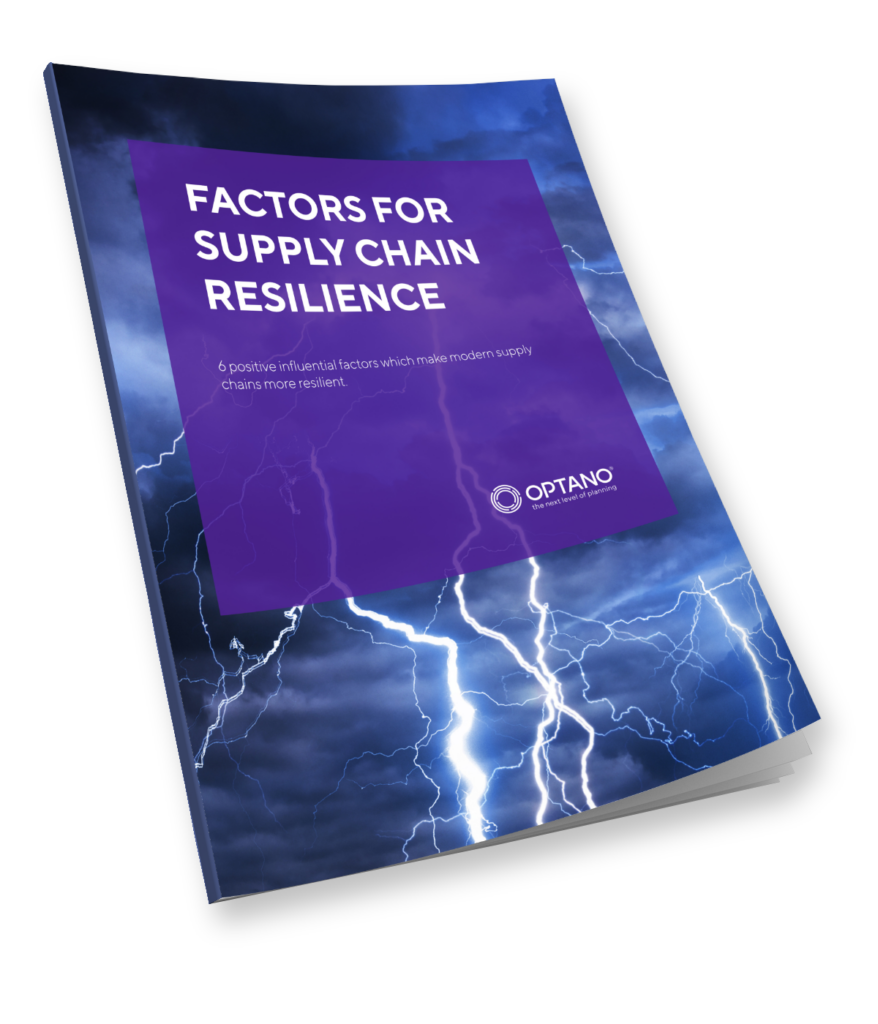 Are you interested in our  factsheet?
Factors for supply chain resilience
The main challenges in the chemical industry
Fluctuating prices and quality of raw materials
The chemical industry is highly reliant on raw materials and intermediates to process its goods. Yet these are in high demand globally, particularly by large national economies such as China, India and Brazil and the demand far exceeds the availability. As a consequence, raw material prices are subject to major price fluctuations. With so many diverse products and raw materials in their  inventories, this poses a challenge for many companies in the chemical industry since it is difficult to keep track of changing prices and availability.
Furthermore, quality is a major consideration when procuring raw materials. The chemical industry is highly regulated. Products are subject to stringent controls and have to comply with guidelines on environmental protection and human health during chemical handling, including use and transport. For this reason, companies cannot afford to compromise on quality when buying materials. This makes the procurement process even harder when you need high quality materials that are reasonably priced, and which are available in the right quantity.
Supply chain visibility is crucial in order to track price fluctuations in the market and be able to consider these in resource planning and make supply chain adjustments whenever necessary.
It also makes sense to rely on more than one supplier to strengthen a company's bargaining position when procuring materials. At the same time, these suppliers should be chosen wisely, paying attention to the quality of the materials and delivery reliability.
Complex production processes
The chemical industry uses materials or intermediary products in production which often have to be processed within a short time because of their composition or features. Therefore, it is essential that production processes run smoothly.
However, there are a great many smaller workflows within the production process which need to be considered (You can read more about this issue in our blog: "Optimized workflows in the process industry"). Each workflow requires exact and careful planning for the overall production process to remain transparent. Which ingredients and materials are required and in which quantities? Where are they currently located along the supply chain? How far along is each product? Which resources are available? Without the necessary transparency it becomes difficult to manage inventory, cost calculations, procurement, etc.
And again, quality is a priority. The quality standards of chemical products are high. It is important to ensure that materials contain the right properties during every step of the production process. Any minor changes to ingredients or formulas lead to delays or even a halt to production which affects subsequent areas further along the supply chain.
Workflows and processes can be greatly improved by having optimized production planning schedules which enable smoother and transparent workflows. Furthermore, improved production processes can help to identify sub-standard quality and trace the issue back to its root cause.
Lack of transparency in inventory
When it comes to inventory, the rule of thumb is "not too little, but not too much".  Too little inventory holds up production and a failure to meet customer demand. Too much in your warehouse is also counter-productive since, as mentioned above, many of the products required in the chemical industry cannot be stored for overly long periods or they require special storage.
The chemical supply chain must be flexible enough so that a company can respond to any delays in delivery. Inventory management must also be optimized to maintain an overview of incoming and outgoing goods.
Special logistic requirements
Logistics is an essential area of the supply chain, particularly in the chemical industry, and requires careful planning.
Many goods are subject to particular storage or transport due to their composition: hazardous or toxic goods require special storage and transport,  temperature-sensitive products such as medicaments require cold storage and refrigerated transport. Health and hygiene standards also have to be observed in the logistics.
It is essential that time-critical products and materials are ready for delivery at the right time. Delivery reliability is therefore crucial when choosing suppliers.
The logistic complexity can be considerably reduced with effective load and route optimization which can considerably help to shorten delivery and waiting times at load points as well as to keep the number of empty runs at a minimum.
More interesting articles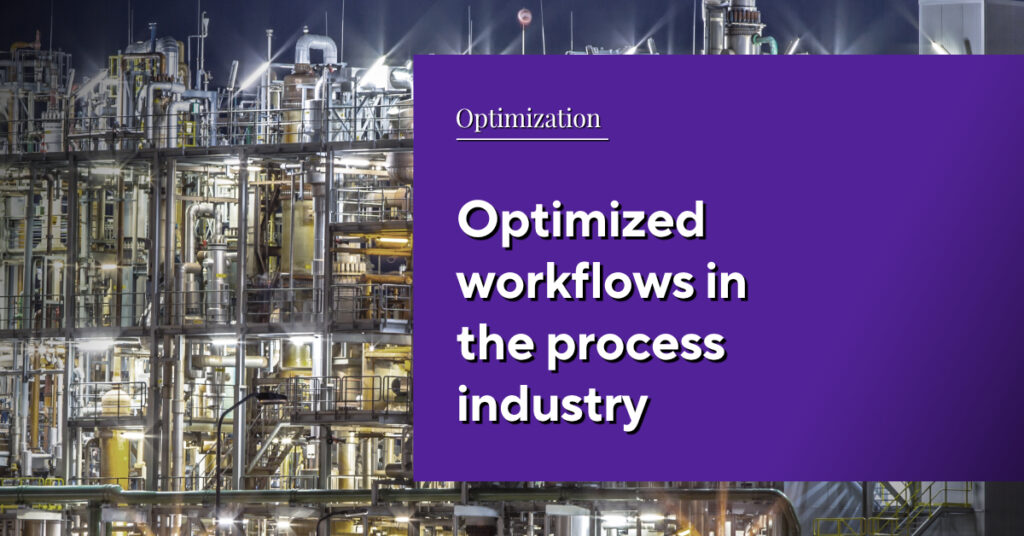 The process industry has highly complex workflows. OPTANO can generate solutions to the most difficult workflow problems using mathematical optimization.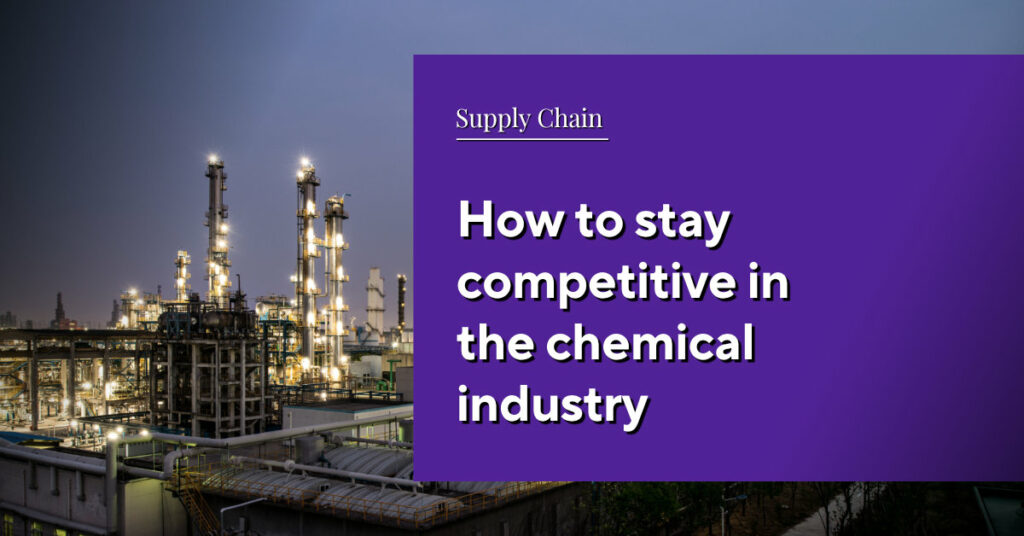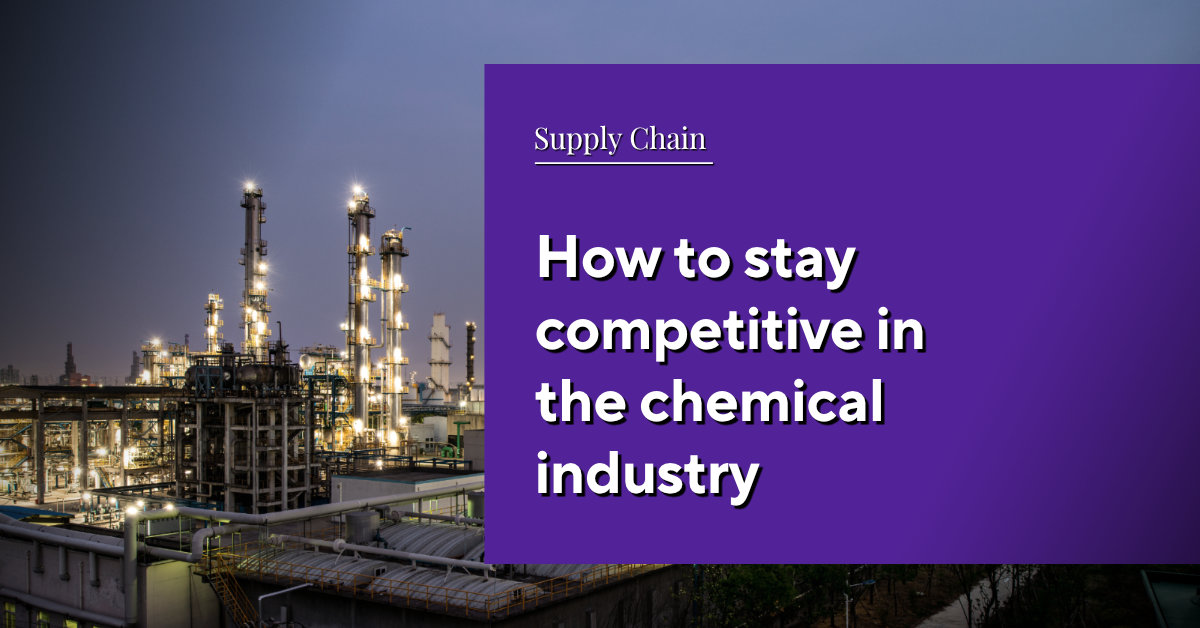 Is supply chain transformation a way towards differentiation in the highly competitive environment of the chemical industry?
Digital solutions for an optimized supply chain
Chemical companies need to have an accurate picture of what is happening where along their supply chains – from the raw materials suppliers right up to the end customer – if they want to start tackling the challenges they are faced with.
Knowledge is power! If a company knows what materials are where in the supply chain, which materials are about to run out, where costs can be reduced without compromising on quality, etc., then they can plan their production schedules far better, balance inventory and meet customer demand, ensure product consistency and quality, and basically optimize performance all along the supply chain to customize chemical needs.
Chemical companies have a mass of internal historical data at their disposal. With advanced analytics procedures, this data can be captured and leveraged effectively to achieve supply chain visibility. Using Predictive and Prescriptive Analytics procedures, the data available in the supply chain (i.e. supplier, customer, logistics) as well as relevant external data from public institutions, weather and traffic services, etc. can also be applied to predict future demand and identify production needs. This enables companies to plan better, respond timely to any sudden changes and make informed decisions overall.
How can Predictive and Prescriptive Analytics help?
Predictive Analytics helps to predict what is likely to happen in the future by using the historic data a company has at its disposal combined with machine learning techniques. The transparency this creates allows you to identify trends and adjust your strategies in advance. This can be used to find the answers to questions such as "How will a natural catastrophe in a certain region influence the availability and prices of the raw materials we need?" or "To what extent will port closures in South-East Asia affect our production schedule?"
Prescriptive Analytics applies methods such as mathematical optimization, algorithms and the use of special solvers in order to run through complex scenarios and help businesses make optimal supply chain decisions. For example, solutions to problems such as where to locate new production sites or warehouses, but also route optimization for sustainable logistics can be found with this method.
Supply chain optimization is on the agenda? OPTANO can help!
Predictive and Prescriptive Analytics are even more effective when they are deployed together. An optimization platform such as OPTANO combines both of these advanced supply chain analytics procedures to enhance the quality of your supply chain management. It encompasses integrated planning and control of all your supply chain processes to ensure that your supply chain remains transparent and responsive, even in the event of major, unforeseen disruptions. OPTANO provides you with a sound basis on which to make decisions, enabling you to get the best results for your supply chain.
And that's not all! At OPTANO we have a team of experts who combine their know-how and experience to implement customized solutions for businesses in all industries and deliver sound recommendations to help them manage their supply chains – now and in the future.
Interested in learning more? We are at hand to answer any of your questions and are just a phone call or e-mail away! What's more, if you would like to learn more about supply chains, you can download our factsheet "Factors for supply chain resilience" below.
Fortunately many companies have used the supply chain disruptions created by the pandemic as an opportunity to break with the past and focus on digitizing and optimizing their supply chains. Whether panic-buying, as described above, can be prevented in the future, is another matter. But at least companies with optimized supply chains will be able to manage the situation far better.
Have you got your factsheet about this topic yet?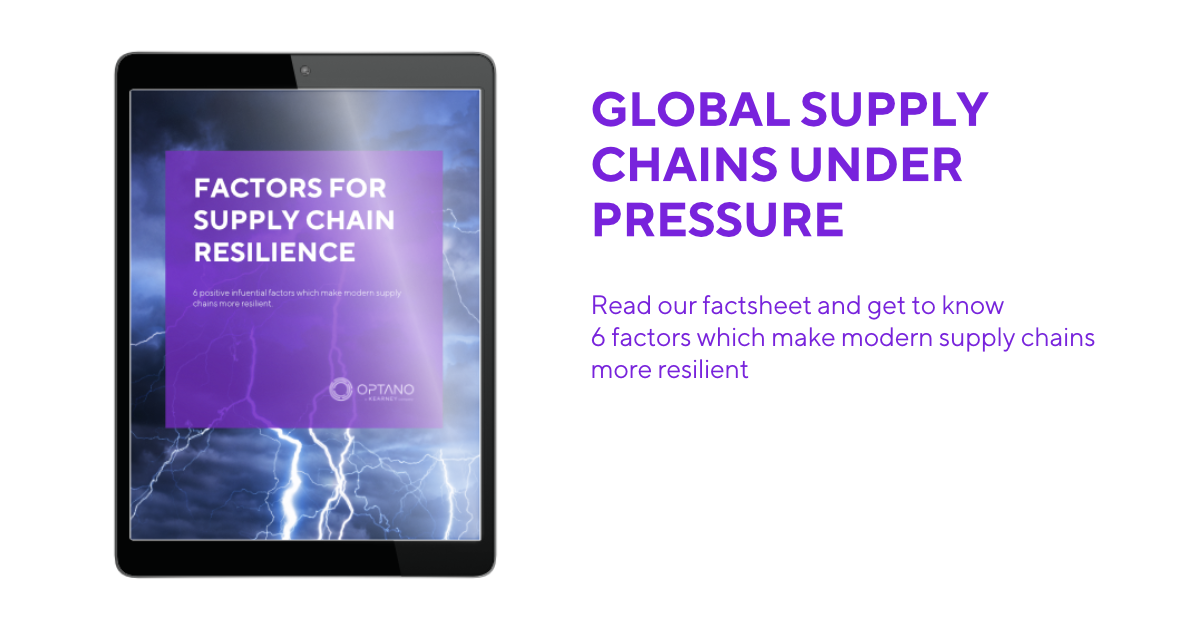 What are the factors which contribute towards a resilient supply chain? These are outlined in our factsheet.
To obtain our factsheet, all you need to do is enter your contact details in the space below. A pop-up window will then open to download the whitepaper. Please note that by providing us with your email address, you agree that we may contact you on this topic. You may revoke this agreement at any time by contacting privacy@optano.com.
Do you have any questions?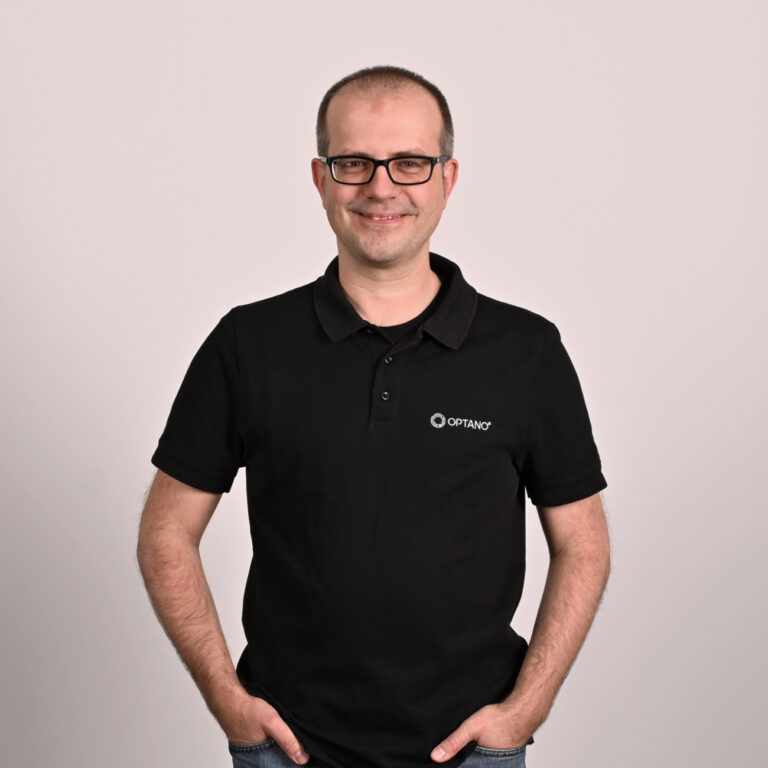 Dr. Sven Flake
Analytics Senior Consultant