Optimized workflows in the process industry
Optimized workflows in the process industry
Mathematical optimization ensures smooth and efficient workflows
Doing the grocery shopping without any planning in advance can be highly unproductive and stressful. Shopping often takes longer than necessary because you have forgotten something and need to go back through the store to get it. The bill at the end is higher than it could have been as you tend to buy things you don't need "just in case we don't have it at home". This results in valuable time that has been wasted, too much money spent and too many superfluous items being stockpiled in the pantry. By planning the weekly shopping in advance, you maintain a better overview, save time and possibly even money. Designing a workflow for this kind of errand is hardly difficult.
 Industrial workflows, however, are an entirely different matter. Particularly in large industries with very complex processes, coming up with effective workflows can be challenging. Here we have taken the process industry as an example to demonstrate how workflows can be optimized to make them more productive and run more efficiently…
Behind the scenes of the process industry
The process industry is made up of companies which are primarily concerned with extracting and processing bulk products (i.e. raw materials) in order to manufacture intermediates or finished goods by applying batch or continuous processing. It includes the chemical, pharmaceutical, food processing, oil and gas, plastics companies and many more. The process industry is huge and behind the majority of the products we use and consume every day. In other words, its significance is not to be under-estimated.
However, the industry has to contend with a great many challenges such as the fluctuating availability of raw materials on the international market or global supply chain problems. As an industry which exploits the earth's natural resources in great amounts and consumes high levels of energy, it has had to review many processes in order to meet enforced sustainability requirements by governments.  At the same time, of course, it has to reach efficiency targets while ensuring maximum profitability.
Many companies have already taken important measures to meet these requirements, for example by:
introducing tighter quality and safety measures to ensure that products meet quality standards while increasing yield at the same time,
switching from batch to continuous processes which are more efficient and reduce operational costs,
monitoring equipment more closely to ensure timely maintenance procedures to prevent machine failures and therefore avoid production bottlenecks and delivery delays,
 implementing measures to manage waste water and reduce air pollution.
Although these measures have proven to be effective at some level, many companies are still finding it difficult to find reliable solutions to help implement efficient workflows.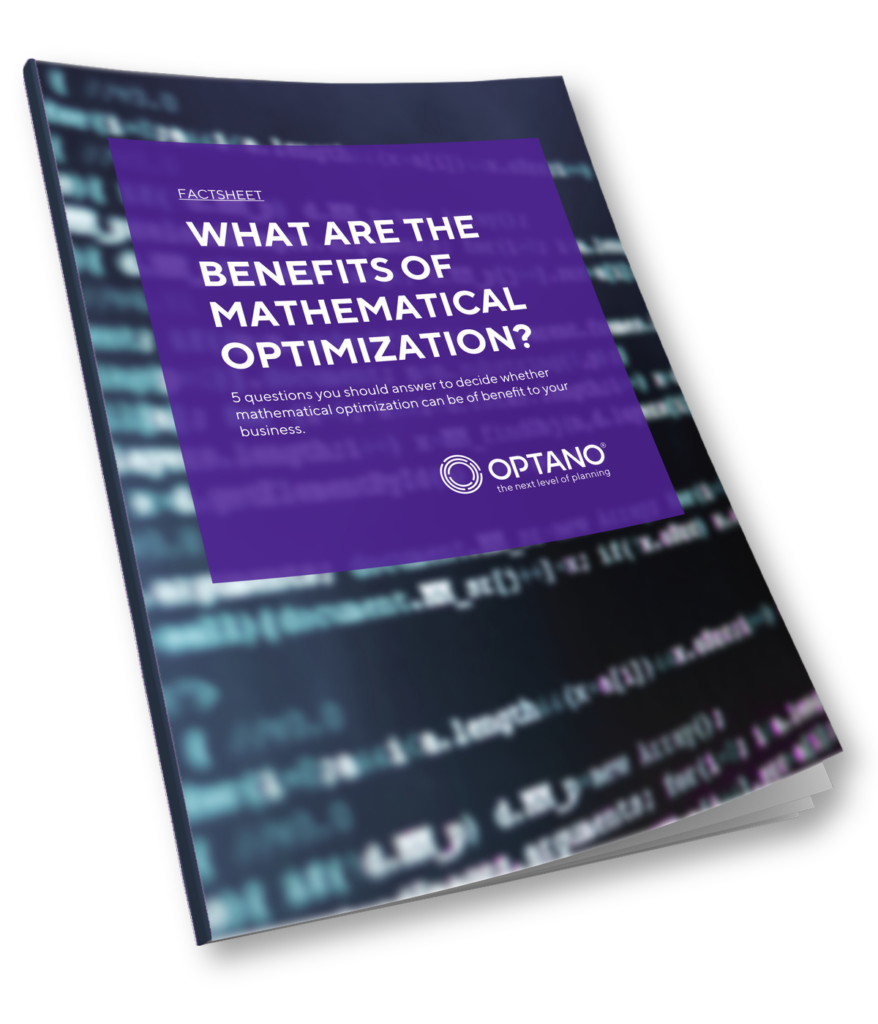 Are you interested in our factsheet?
What are the benefits of mathematical optimization?
Plants still have too many manual workflows
The process industry has immensely complex workflows which involve many different internal departments – R&D, production planning, purchasing, manufacturing, logistics, etc  –  as well as external bodies such as government agencies, control bodies and the like. Although many smaller, intricate workflows have been optimized, overall workflows still remain largely unstructured and intransparent. Inefficient workflows lead to higher operational costs, increased waste and bottlenecks which have a major impact on a business's profitability.
Automation has long been recognized as the solution to workflow challenges. Despite this, many companies still rely heavily on manual work from planning to machine operation. Furthermore, round-the-clock manufacturing means that machine operators work in shifts and so of course not one and the same person can be responsible for one machine or process. No matter how well the communication channels or knowledge transfer may function in a company, you simply cannot assume that every operator will have the same level of information, knowledge or even experience. Of course, the know-how and experience of human planners and operators is crucial. Even so, they are "only human" and the sheer complexity involved in the workflows makes it impossible for planners and operators to keep track of everything. This is where it makes sense to have automated workflows. Today, most companies have implemented automation  by introducing distributed control systems, automating key processes by integrating machines, monitoring performance and communicating key information. However, there is still room for improvement…
The answers lie in the data
For years, operators have been entering valuable data into machines and systems in industrial plants. The problem is that the data has been lying unused when it can be applied to gain highly useful insights. Like many other industries and business sectors, the process industry is data rich but information poor.
Take control systems, for instance, which collect data measurements during manufacturing processes. These measurements could be harnessed effectively to help companies structure their processes more efficiently. This could be to identify in which areas bottlenecks occur or where a high amount of energy is consumed. Plant throughput can be increased and waste reduced.
Advanced analytics can considerably support companies in leveraging this data in order to help companies optimize their workflows. Machine learning – the most prominent predictive analytics tool – can process all of the historic data available in a plant or operating system in order to identify workflow patterns, learn from the past and make future predictions.
Mathematical optimization, as a leading prescriptive analytics tool, will then leverage this data which it will enter into a mathematical model of your business environment. With the help of special algorithm-based solvers, it will then generate solutions to the most challenging workflow problems and enable businesses to make informed decisions on the best way to optimize their workflows, streamline processes, manage their supply chains and so much more.
OPTANO and mathematical optimization as a solution to your workflow problems
OPTANO is the ideal platform on which to plan optimization fast and effectively. It enables you to solve problems and optimizes all of your business processes and workflows to achieve better performance and higher profitability – with highly efficient, integrated and intuitive software. For example, OPTANO can use a model of a real-world situation (i.e. a plant, department)  to solve a particular optimization problem.
Here, we have taken the following as a case example: how to ensure that a plant's CO2 emissions do not exceed a particular limit. To do this, energy consumption measurements (part of the input) and the CO2 emissions these create (the output) are entered into the model. In addition, OPTANO also includes relevant data from the workflows such as machine temperature levels, raw material volumes, the type of energy consumed, etc. In this way, the relationship between the input and output can be determined.
Using these insights, OPTANO can generate the optimal solution on how to control the machines (or system) so that CO2 emissions do not exceed the target level. The operators can thus use the software to operate the machines more efficiently without having to make any manual adjustments themselves. The result is a smooth and efficient workflow which requires less use of energy, thus saving costs and keeping CO2 emissions at the required level.
And that's not all! At OPTANO we have a team of experts who combine their know-how and experience to implement customized solutions for businesses in all industries and deliver sound recommendations to help them manage their workflows smoothly – now and in the future. Not only that, our service doesn't end when the solution has been implemented. As needs and conditions change, OPTANO offers ongoing support so that you can concentrate on the business at hand and we focus on the rest.
Interested? Then why not talk to one of our consultants today? We are just a phone call or e-mail away. And if you would like to learn more about how mathematical optimization works, you can download our factsheet "What are the benefits of mathematical optimization?"
But back to the grocery shopping...
In order to plan your grocery shopping, all it takes is a very simple workflow: check what you have in the cupboards and refrigerator, write a shopping list, take reusable bags with you, tick off each item on the shopping list once it has gone into the shopping trolley, etc. Easy! And for other very complex workflows, there is always OPTANO!
Have you got your copy of our factsheet on this topic yet?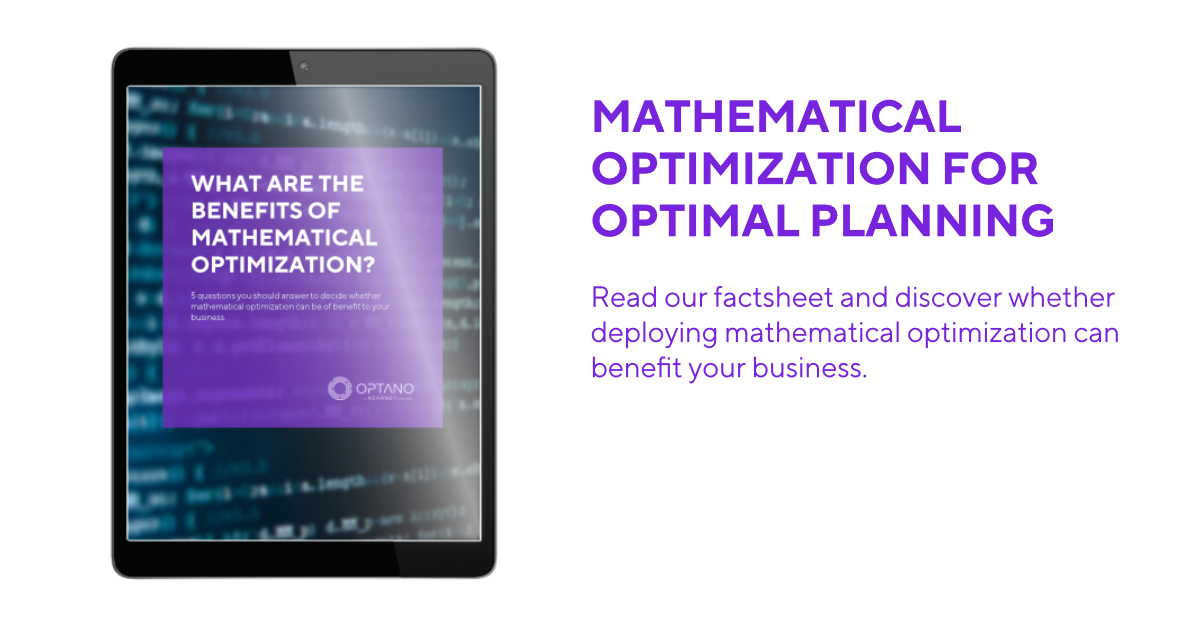 In our factsheet "What are the benefits of mathematical optimization?" we ask 5 questions to help you assess whether mathematical optimization brings benefits to your organization.
To obtain our factsheet, all you need to do is enter your contact details in the space below. A pop-up window will then open to download the whitepaper. Please note that by providing us with your email address, you agree that we may contact you on this topic. You may revoke this agreement at any time by contacting privacy@optano.com.
Do you have any questions?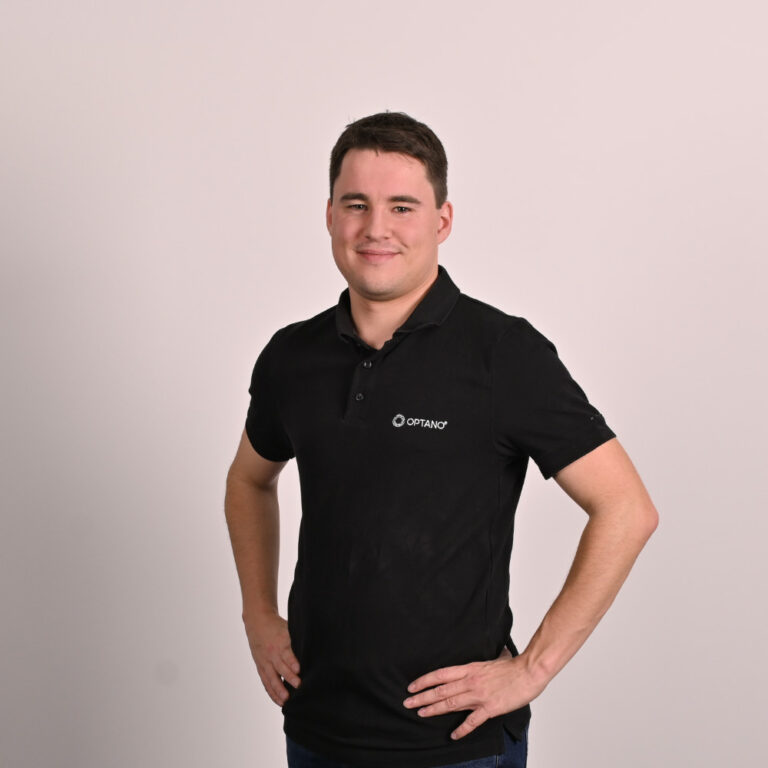 Dr. Patrick Schuhmann
Analytics Consultant