Challenges in planning production networks
Challenges in planning
production networks
Creating efficient production networks
with the help of mathematical optimization
A success story began 130 years ago in a small pharmacy in Bielefeld in eastern Westphalia. With innovative products such as tasteless baking powder, vanillin sugar and custard powder, Dr. August Oetker revolutionized the preparation of food. Today, the brand is known not only for baking ingredients and goods, but for many other food products. Who doesn't know the typical frozen pizza from Dr. Oetker?
With the expansion abroad and various brand takeovers, there are often different names on the packaging today, but these products have one thing in common: they belong to the Dr. Oetker company. As a result of the international brand expansion, a large number of different locations are now part of the production network.
Many companies that started out in a garage (or, as in our example, in a small pharmacy) now operate in international markets. To survive here, they need one thing above all: an efficient network. In this article, you will learn what needs to be considered and how mathematical optimization can support them.
From the garage (or pharmacy)
out into the world
The production networks of many companies have often grown historically. Perhaps sites of former competitors were taken over, or capacities for certain orders were built up? Maybe production was relocated abroad? Over time, a network of different international production sites is created, which are connected to each other and to their end customers via different transport options.
Such a production network is not only highly complex, it also changes over time. This can have various reasons, for example:
Reduce costs (wages, energy, transport)
Create proximity to sales market or access to markets
Minimize risks and increase resilience (supply chain failure, geopolitical problems, natural disasters, currency risks)
Increase flexibility
Take advantage of tax benefits and subsidies
Find qualified specialists
Avoid tariffs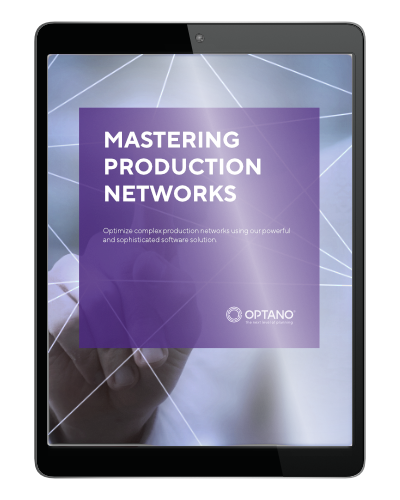 Are you interested in our factsheet?
Mastering Production Networks
High requirements
on production networks
The term "production network" does not just stand for a number of production sites at different locations. High demands are placed on modern production networks: the ability to deliver must be ensured, cost and transport advantages must be exploited, and risks must be minimized. As a result, production networks should be powerful and efficient. If you want to know more about the OPTANO solution for planning complex production networks, you can find it here.
What makes network planning so complex?
Many different influencing factors must be taken into account in network planning. There are often large differences between individual production sites. These can be found, for example, in the on-site costs – such as labor costs, material costs, energy costs, etc.. But also different production possibilities, market developments and restrictions at the sites mean that network planning quickly becomes complex.
Holistic, strategic management of the network is therefore essential. However, this can be difficult when there are a large number of manufacturing sites. If the production sites are also spread across different regions of the world, the difficulty of network planning increases many times over. Different currencies and taxes, as well as customs duties and subsidies, can both offer opportunities and be associated with risks. The permanent influence of competition, suppliers, customers and politics also increase the complexity of a production network.
Different technical requirements and a lack of compatibility – for example in the area of manufacturing – also have an influence on the creation of plans. Comparisons between different production plants are then not always easy. To make matters worse, if the network has grown historically – as is so often the case – many companies lack the necessary transparency for optimal planning.
A bird's eye perspective of the network
In order to meet all the requirements placed on a production network, it needs an optimal structure and an intelligent organization that must be continuously adapted in order to be able to react to the numerous external influences that are constantly changing. Processes and plans may be optimal for individual production plants, but when looking at the production network – especially those that have grown historically – weaknesses may become apparent in terms of structure. In these cases, goals related to cost and/or quality and service are often not met. Production networks also offer synergies that are not recognized due to a lack of transparency.
If this is the case, holistic network planning should be considered. Here, the focus is on maximizing efficiency while minimizing costs and, if necessary, optimizing other company-specific KPIs. For example, reducing CO2 emissions across the entire production network is now one of the defined goals at many companies.
A coordinated production network makes the best possible use of existing resources and ensures a balance between production and warehouse locations and transport routes – both in terms of costs and CO2 emissions. In addition, good network planning can draw attention to potential risks and reduce them.
Advantages of holistic network planning
Transparency regarding costs, suppliers, sales markets
Competitive production decisions
Increased agility and flexibility in production
Utilization of potentials and advantages in logistics
Stabilization of future-oriented structures and processes
Network planning using mathematical optimization and OPTANO
Forward planning of demand
With the help of demand forecasts, requirements and capacities can be even better aligned. Sales forecasts that are not only based on estimates but on historical facts in combination with available data on future developments help to improve the quality of planning.
By using OPTANO, we can directly access the results of predictive analytics in the area of prescriptive analytics, i.e. the implementation of optimization models of planning decisions. This means that optimal planning is based on the best possible prediction of the future, using the findings of the past.
The implementation of demand planning increases delivery reliability and service levels. Optimal availability of goods automatically leads to increased customer satisfaction.
Mathematically optimized network planning
Optimal planning for production networks should always be based on the company's goals. As already mentioned, the primary goals are to reduce costs and maximize profit, and if necessary to optimize other company-specific KPIs.
Network planning with the help of mathematical optimization is based on given data of all units of the production network. This can include information on production and storage capacities, logistics and transport costs, CO2 emission values, and customer demand.
The creation of plans with optimization software such as OPTANO is based on a model that represents the entire production network – taking into account all goals, resources, variables and restrictions. With the use of special solvers, optimal plans can be created for the production network.
With the help of planning software, decisions are made on how best to use production capacities as a whole, at which locations to place production orders, and which transport routes to choose. The task of network planning is to create a production and transport plan that is as efficient as possible and allows the defined goals to be optimally achieved.
Agile software such as OPTANO also makes it possible to quickly adapt plans to the dynamic environmental conditions of a production network. Among other things, what-if analyses or scenario comparisons can be used here.
By using intelligent methods of mathematical optimization, planning software such as OPTANO enables you to make the right decisions at any point in time and thus increase the profitability of your network. OPTANO supports you with concrete recommendations for action – soundly analyzed on the basis of all data to be considered.
What-if analyses and scenario comparisons
With the help of what-if analyses and comparisons of scenarios, decisions between alternative solutions are easier to make. Even during planning, different scenarios can be compared in a very short time, so that changes can be responded to quickly.
For example, it is possible to find out what effects changing environmental conditions at a production site will have on the entire network.
Now it's time to bake cake
The short story about baking powder and vanilla sugar has awakened my appetite. I think it would be a nice idea to bake a cake again. And who knows, maybe there will be a few pieces of cake left over for my colleagues at OPTANO? But if I know my family, they will only leave a few crumbs on the cake plate. And this is a prediction I can make without using any software.
Do you already know our
factsheet on this topic?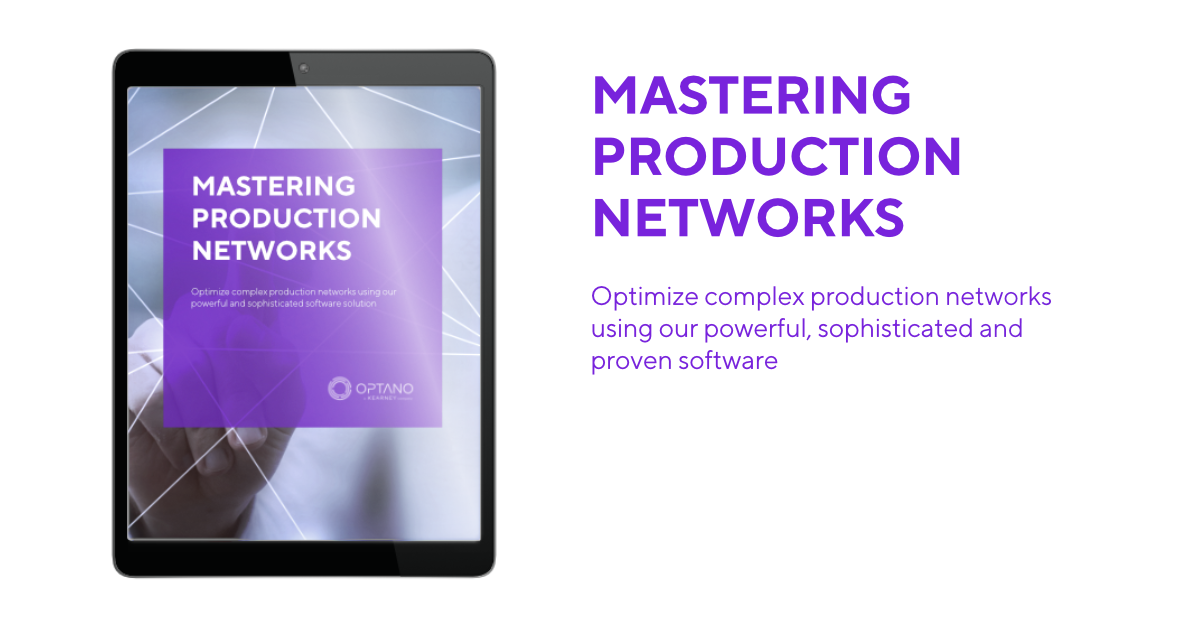 The management of complex production networks is demanding. Many factors and cross-dependencies influence the performance of the network. How can it be optimized by using AI and sophisticated mathematical methods to ensure efficiency, delivery reliability and sustainability? In this factsheet, we show the possibilities offered by the OPTANO solution for production networks.
In this factsheet we would like to share what we have learned over the course of numerous projects on how to successfully complete an optimization project.
To obtain our factsheet, all you need to do is enter your contact details in the space below. A pop-up window will then open to download the whitepaper. Please note that by providing us with your email address, you agree that we may contact you on this topic. You may revoke this agreement at any time by contacting privacy@optano.com.
Do you have any questions?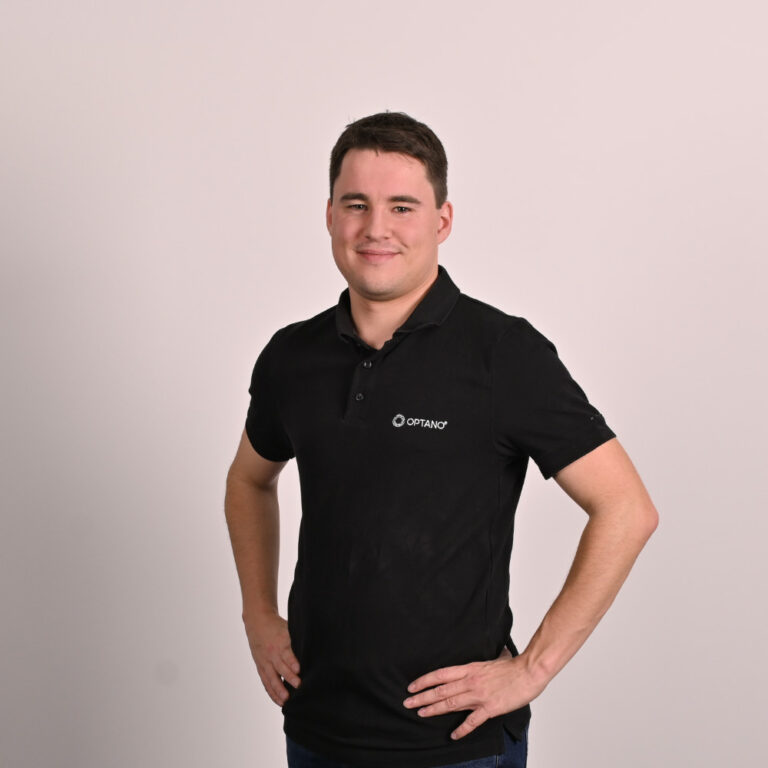 Dr. Patrick Schuhmann
Analytics Consultant